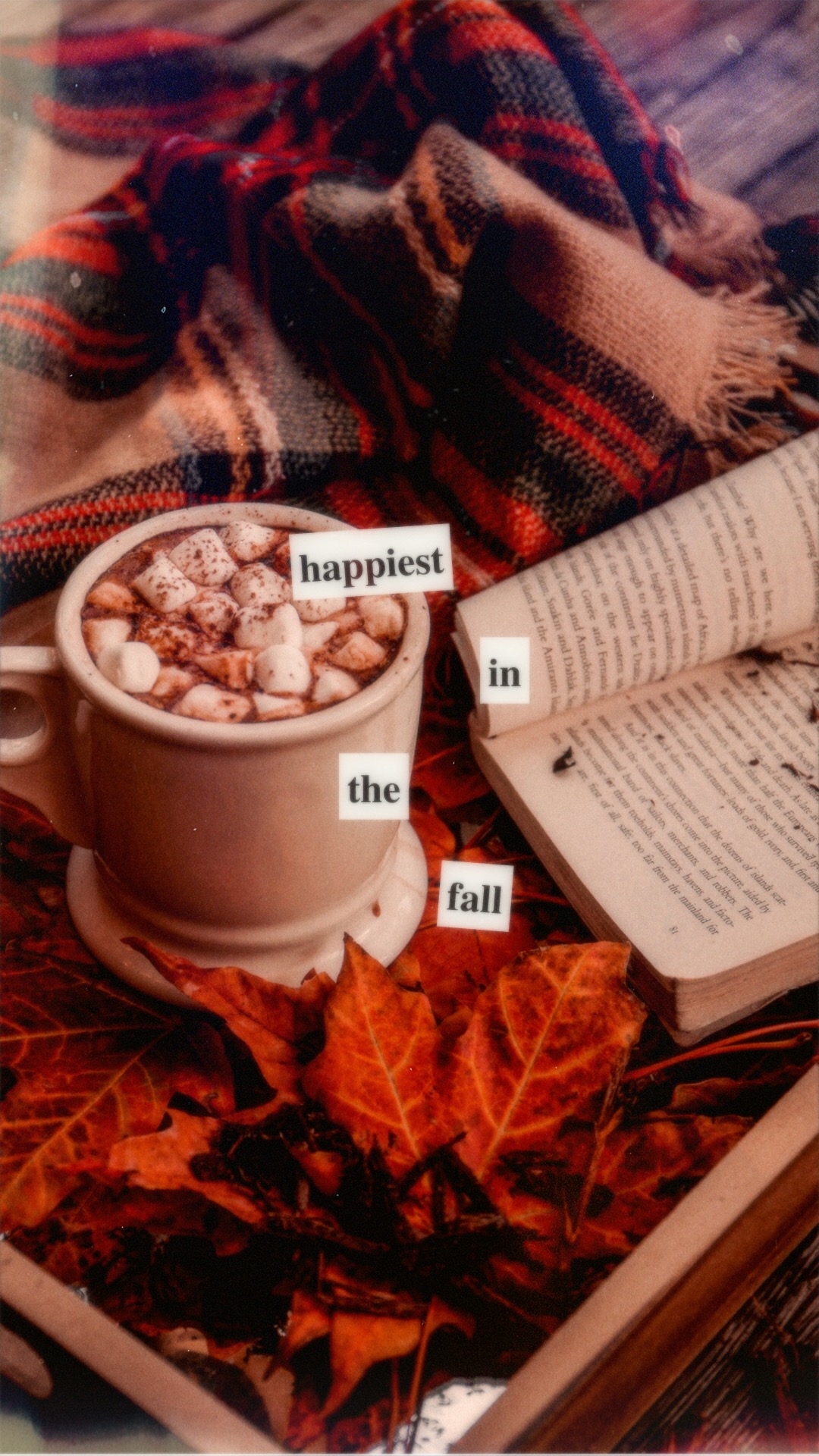 It's autumn. The time of year when the air becomes crisp, and nature's vibrant hues paint the landscape. OMG do I love this season!! 🧡🌻🍂
As the weather gets colder and leaves change colors, it's also a perfect opportunity to embrace the cozy comforts of the season. Can you almost picture yourself wrapped in a warm blanket, sipping a steaming mug of hot cocoa, and indulging in the delicious aroma of freshly baked apple pie…? Autumn truly is a sensory delight!!
But beyond its appeal to our senses, autumn also offers a chance for reflection and renewal. As the year enters its final stretch, we find ourselves contemplating the memories and experiences we've had throughout the year. It's a time of introspection and gratitude for the adventures and challenges we've faced.
And for those passionate about documenting their lives through photographs, autumn presents a multitude of picturesque opportunities. The changing leaves provide a stunning backdrop for capturing moments of joy, solitude, and exploration. From vibrant forests to pumpkin patches, to cozy cafes adorned with autumnal decorations, every corner seems to hold the promise of a perfect Instagram snapshot. I know my camera roll is absolutely FULL of autumn pic hahaha!
So, as you embark on your autumn adventures, don't forget to pair your captivating photos with equally inspiring captions. Below, I've curated a list of 30 aesthetic Instagram captions that will make your autumn pictures truly shine. From poetic expressions to witty remarks, there's something for everyone to perfectly complement your stunning visuals.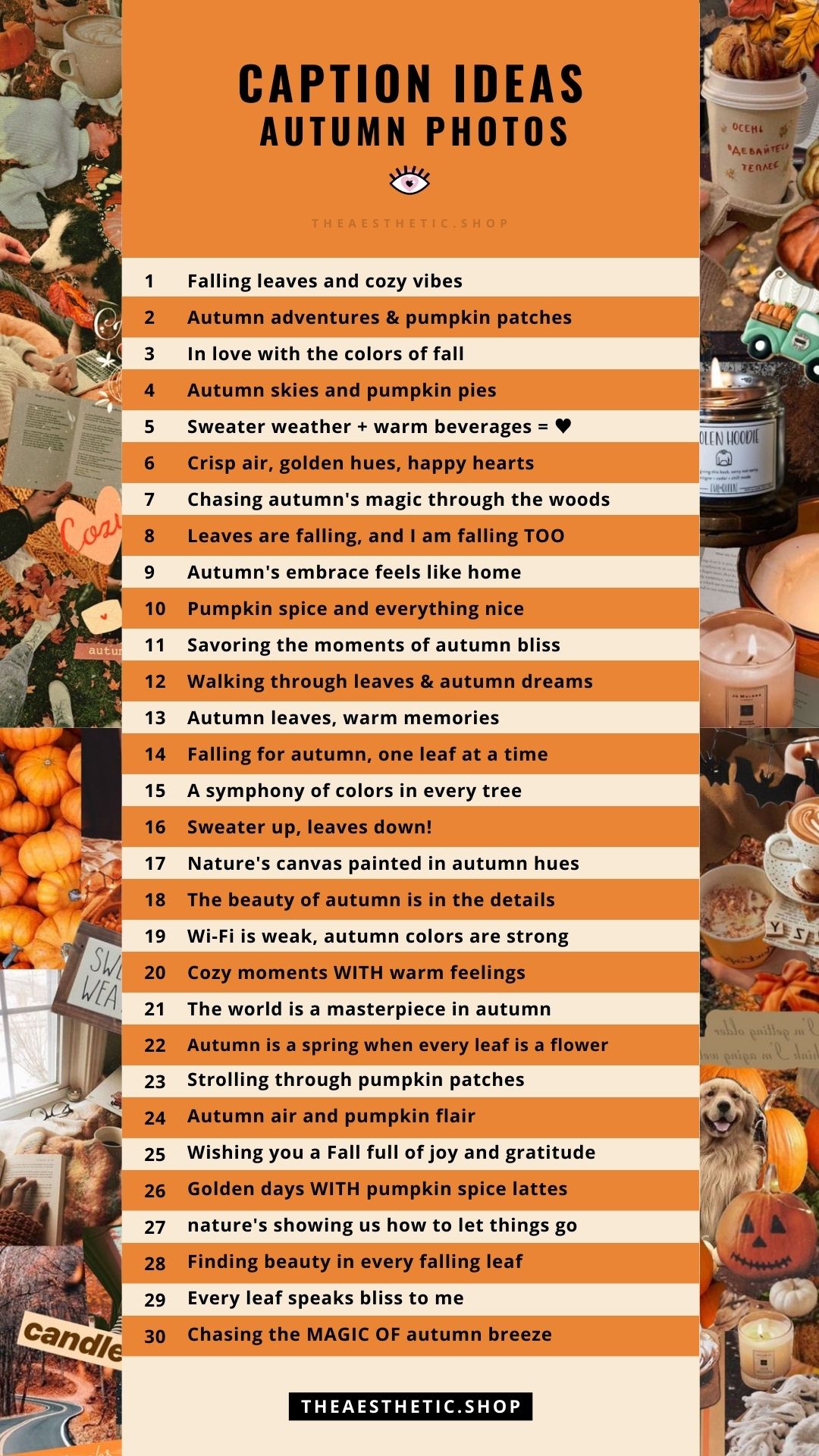 30 Aesthetic Instagram caption ideas for Fall photos – Copy/paste:
Falling leaves and cozy vibes
Autumn adventures & pumpkin patches
In love with the colors of fall
Autumn skies and pumpkin pies
Sweater weather + warm beverages = ♥
Crisp air, golden hues, happy hearts
Chasing autumn's magic through the woods
Leaves are falling, and I am falling TOO
Autumn's embrace feels like home
Pumpkin spice and everything nice
Savoring the moments of autumn bliss
Walking through leaves & autumn dreams
Autumn leaves, warm memories
Falling for autumn, one leaf at a time
A symphony of colors in every tree
Sweater up, leaves down!
Nature's canvas painted in autumn hues
The beauty of autumn is in the details
Wi-Fi is weak, autumn colors are strong
Cozy moments WITH warm feelings
The world is a masterpiece in autumn
Autumn is a spring when every leaf is a flower
Strolling through pumpkin patches
Autumn air and pumpkin flair
Wishing you a Fall full of joy and gratitude
Golden days WITH pumpkin spice lattes
nature's showing us how to let things go
Finding beauty in every falling leaf
Every leaf speaks bliss to me
Chasing the MAGIC OF autumn breeze
---
Feel free to choose any of these captivating captions to enhance your autumn photos on Instagram 🍁🧡🤎
Happy capturing and sharing, and may your feed radiate with the warm tones and beautiful moments of this enchanting season!
Beijos,
Lu
P.S) Want more aesthetic caption ideas? Check out these posts with captions for every topic, like friends, selfie, travel, family, winter, spring and summer!