Hey guys, so I've been posting a couple insta feed themes here on the blog lately, and I've noticed you're enjoying them! 💖✨
Additionally to the feed itself, I include some images (all free, via Unsplash and edited to match) + some little tips on how to achieve the visual unity between the elements and, of course, get the theme.
I know how much you guys love pretty, organized and unique Instagram feeds, and you really want to have your own original feed design. So I want to help you achieve this goal. Ask me in the comments here if you have any questions, and I will be very happy to answer them all.
The feed I'm posting today has a holographic aesthetic! 🦄✨
Update —– after I designed this feed, Taylor Swift used a similar aesthetic for a while, promoting her single "Me" and her album "Lover". It's great inspiration too, so take a look: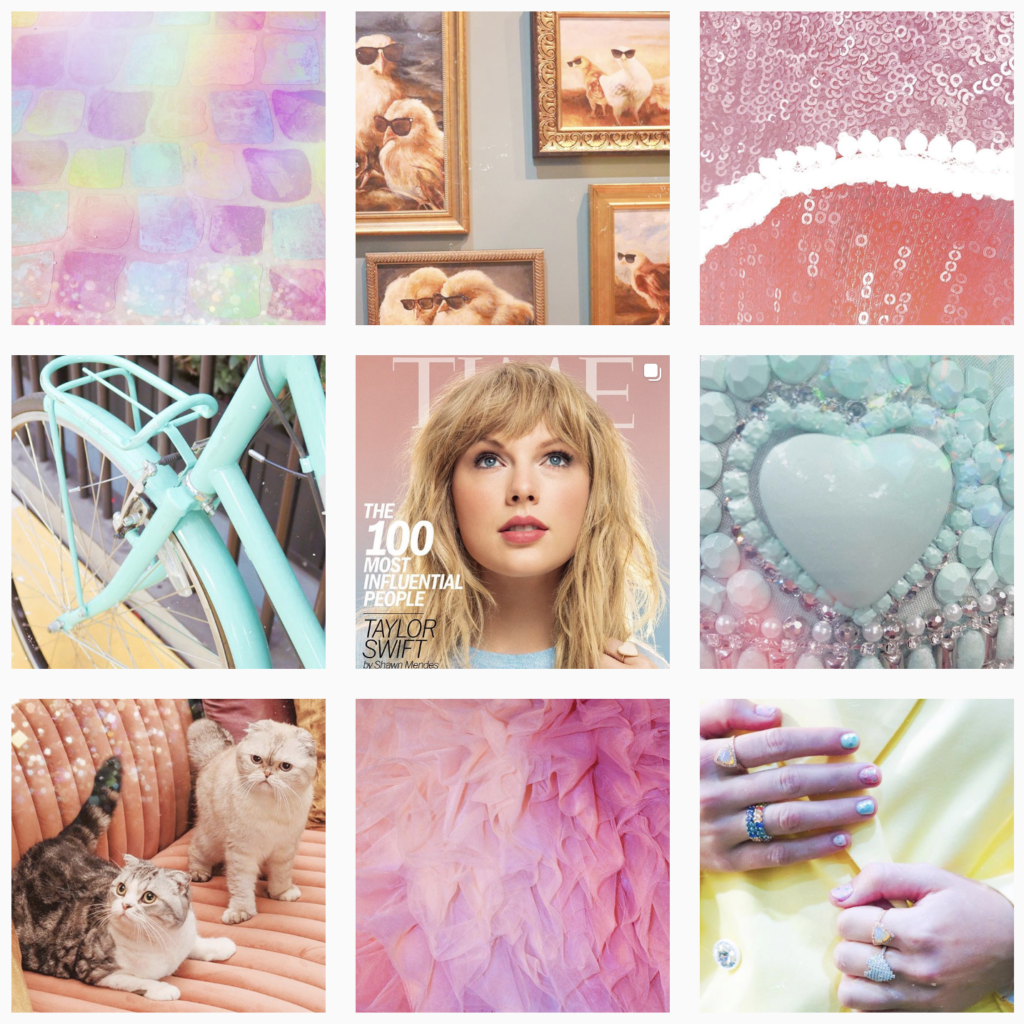 Sooo pretty, right? I hope she found my feed suggestion on Pinterest and got inspired by it. Hahahah a girl can dream! —– end of update.
Anyway, here's the theme I created for the post!
This is not an easy aesthetic to maintain, though. It requires the use of apps, or a lot of Photoshop. I know that not everyone has this disposition/time/skill…
But the result is incredible, and certainly worth it! Especially if you love the whole fantastic unicorn rainbow glittery shiny and holographic theme 🌈💘💖🌸🦄🦋💫🦩🔮💎
I made a quick video to show you how to do it:

* If you feel that the image looks to lifeless, I suggest flattening the image, then Settings / Brightness and Contrast, and decrease the brightness a bit and increase the contrast 😉
Here's a few holographic background images to use on your designs:
Below are a few cool holographic images to add to your library, for whenever you need something pretty quick:
---
Images to use on your holographic feed
---
🔮 Tip – The holographic effect usually stands out more in images with low contrast. So try to fade the darkest part of the photo, especially the black ones. Most editing apps offer this option, even Instagram itself has this function in the editing tools!
Hope you liked the inspiration, guys 🙂
Beijos,
Lu