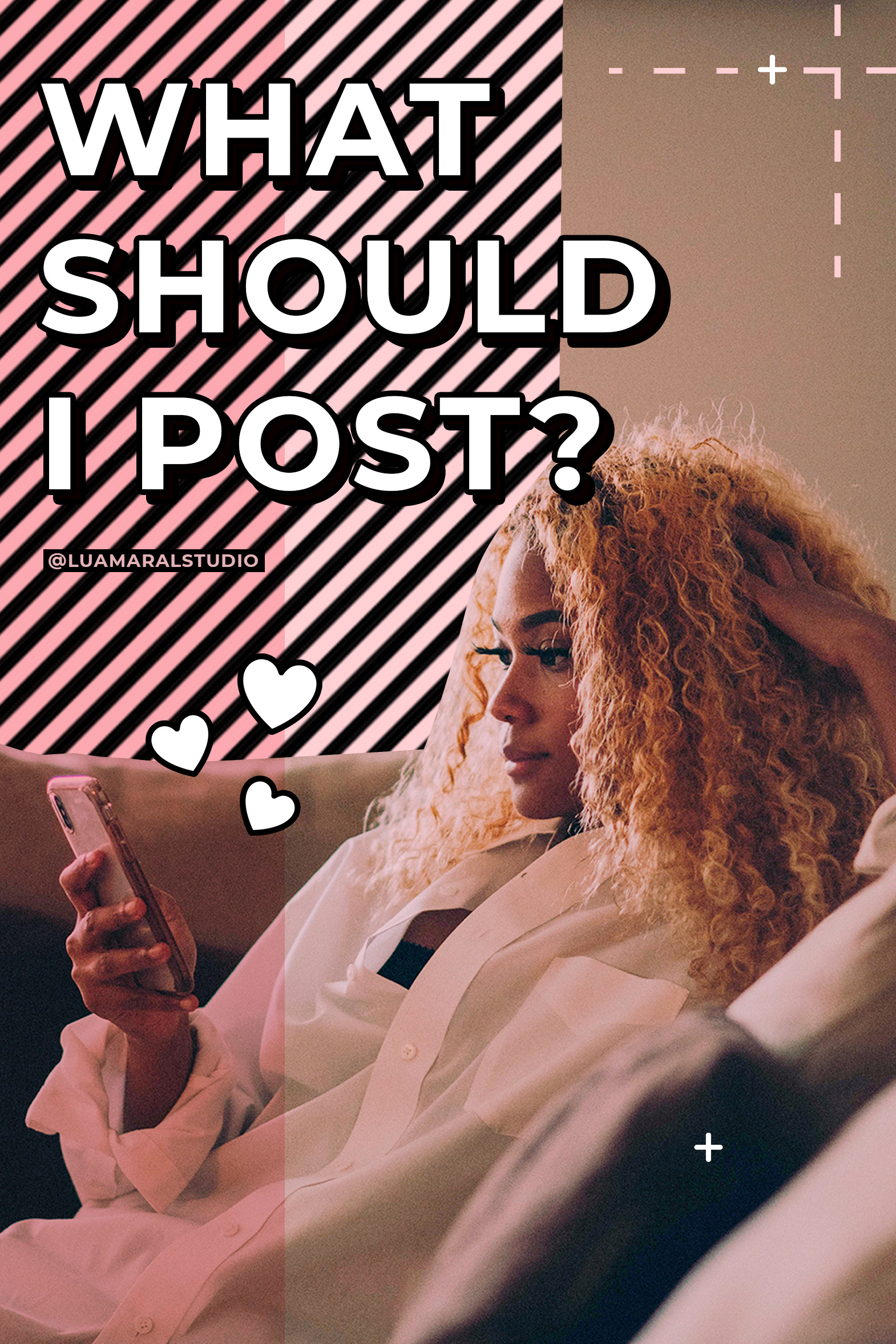 It happens to everyone! 🤷🏽‍♀️😂
Sometimes we feel uninspired, with nothing cool going on to photograph or to post… and little by little our Insta loses track.
This is no problem at all, except when you're working hard to get more followers. Whether because you're promoting your blog, your products, or your own Instagram profile as a possible way to make money in the future.. 🤑
If this is your case, you need to focus on the consistent frequency of posts. That is, try to post at least one photo per day. Another key factor for monetizing your Insta is to cultivate a cool aesthetic in your feed, preferably with a visual unit between the images. I recommend checking out my special about cohesive Instagram feeds here. It's totally free!
So I came up with these 12 ideas to inspire you guys to come up with new posts whenever you run out of ideas. I'll also post the pictures I used (downloaded from this free stock image site). And I'll explain a little bit about each post suggestion below.
1. Beautiful pictures of landscape, nature, cool backgrounds etc go well when overlayed by a quote. It's useful to have a propper app to create your own whenever you need it, like Canva, Meitu, Unfold, Picsart…
2. You can recreate this photo very easily. A simple flatlay on your bed! Remember to pay extra attention the background, and create a scene with a few elements you love, like your favorite book + a cup of tea or coffee. Whenever possible, add some flowers or plants. They make ALL the difference! And hey, try to find a place full of natural light and your photo will look 10x more beautiful =)
3. How about posting a photo of your favorite artist, or an incredible fashion editorial from decades ago, or a scene from the best movie you've ever seen? Here I posted 60 suuuuper cool pictures that might come in handy. Also, there's an almost infinite supply of beautiful images on Tumblr and Pinterest, of course. Several it girls do this, and it is always a huge hit. But this should be done just every once in a while, obvs..
4. Another easy idea to copy at home! No need to worry about doing your hair, makeup etc. Just set your camera timer or ask your sister / girlfriend / mother / whomever you have nearby to take it (in a very well lit place hehe), focusing on your bag or backpack and outfit. Remember the little trick of holding something in your hands, whether it's a mug, or a cool item you have at home. Try to stick to the color palette that interests you the most.
5. Are you in the mood to look gorgeous? So go wild on your best accessories and makeup skills. You can go a little extra, after all this is just for Insta! Instead of taking a selfie, use the camera timer, or put it in video mode and screenshot your favorite parts, then edit the screenshots on VSCO (post here). It is important not to use the front camera for maximum quality. And about lighting, you already know by now right????????? 😬
6. Pets are always a hit on social media. Take your pup or kitten to a place full of light with a very neutral or very beautiful background and take a great pic. Garanteed success!
7. Are you just hanging at home? Put on your coolest shoes and go to the garden. You can take amazing shots from an upper angle! Notice how they used the negatice space technique in this example? The wooden floor has no distractions and all the lines are straight, maintaining an impeccable alignment.
8. Isn't this pic beautiful? It's attached to this post and you can use it anytime you want. You can add a cool, philosophical caption as well!
9. Another suggestion for you to try at home, perfect for when the manicure is pretty and you want to show it to the world. Run to the backyard and try it with different plants. The long sleeve shirt appearing showing ALWAYS works too. You can put it on just for the picture. I do it all the time ahahah! And you know the rules, right? Neutral or beautiful background, lots of light and harmonic alignment 😉
10. Let's be honest: there's always a good old throwback pic saved and ready to be used in time of need. A beautiful photo of that trip with the guys, or a weekend with the family… Spontaneous photos, without posing, and with open and cool backgrounds are the best. One golden tip is to play the videos you've recorded and screenshot your favorite parts and then edit them, as I mentioned above! And hey, do not wait until thursday to post throwbacks! Post them any day you want, just use a #tb instead of a #tbt.. hahaha!
11. Okay, let's add a traditional selfie on this list! One type of selfie that always works is the one where we're lying in bed. Just remember to position yourseld on top of a sheet, comforter, blanket, or any fabric with a nice pattern! I used the example above (I didn't find the source = /) to show you that the background doesn't always have to be white for it to be considered negative space. But it has to be an interesting and consistent pattern! Also, check ou the hand technique I'm always talking about!
12. Last but not least, a wonderful photo idea. Ask a friend, turn on the timer, or use the video + screenshot trick. The photo can be just you sitting on your back, in an interesting place, like near a window, or in the yard, or even on the sidewalk. I think it's cool to be looking at the horizon. Awesome, right?
---
I created another feed with the same ideas but with the bluish color palette. Check it out: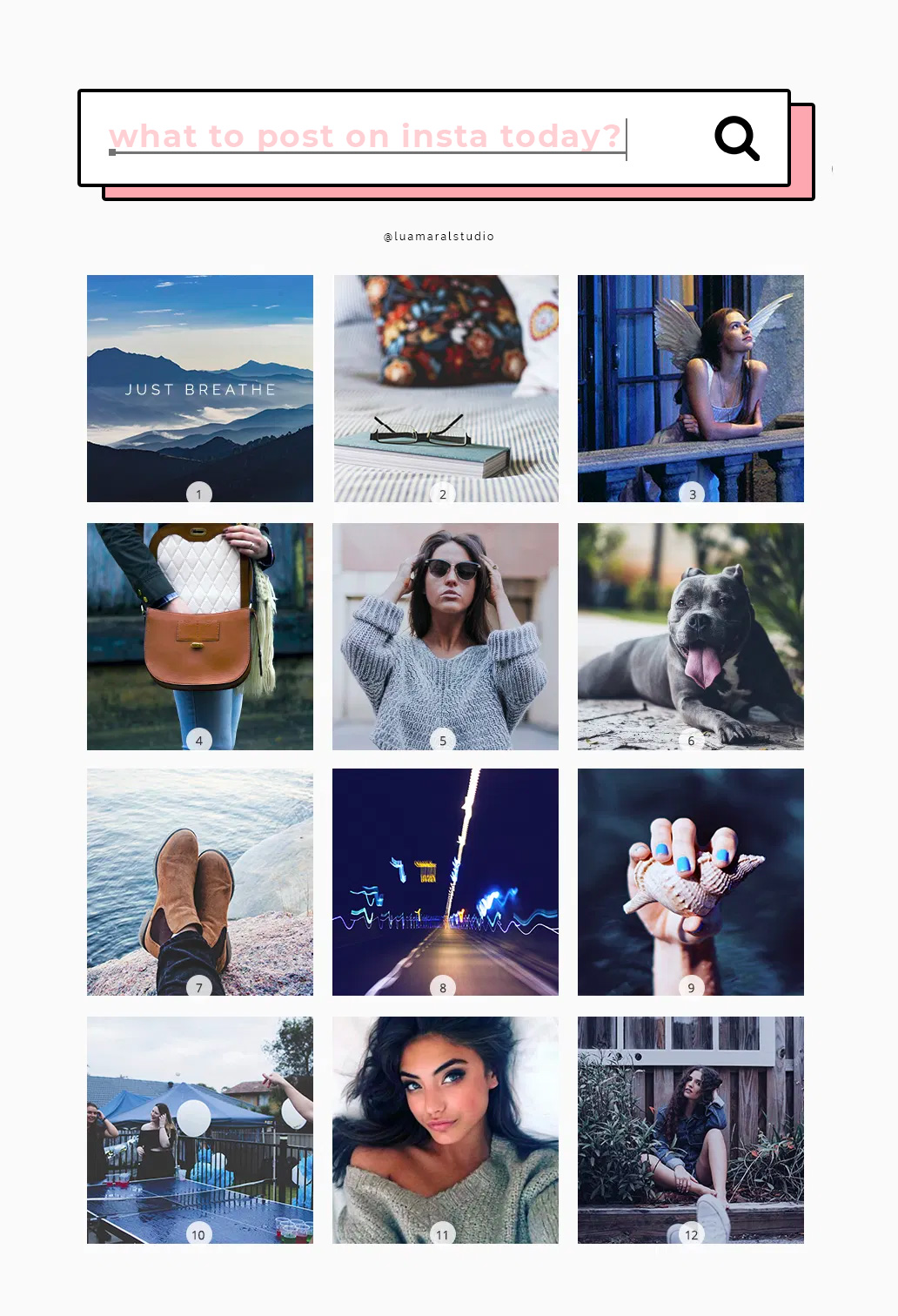 Like the suggestions? I hope so! Let me know in the comments! 💕✨💕✨
Beijos,
Lu
ps. These are the stock photos I used. Whenever possible, it's much better to use your own pics, of course.
---
Since you're here, check this posts with insta bio ideas, this one with emoji combinations and this one with the best time to post on Instagram!
Beijos,
Lu