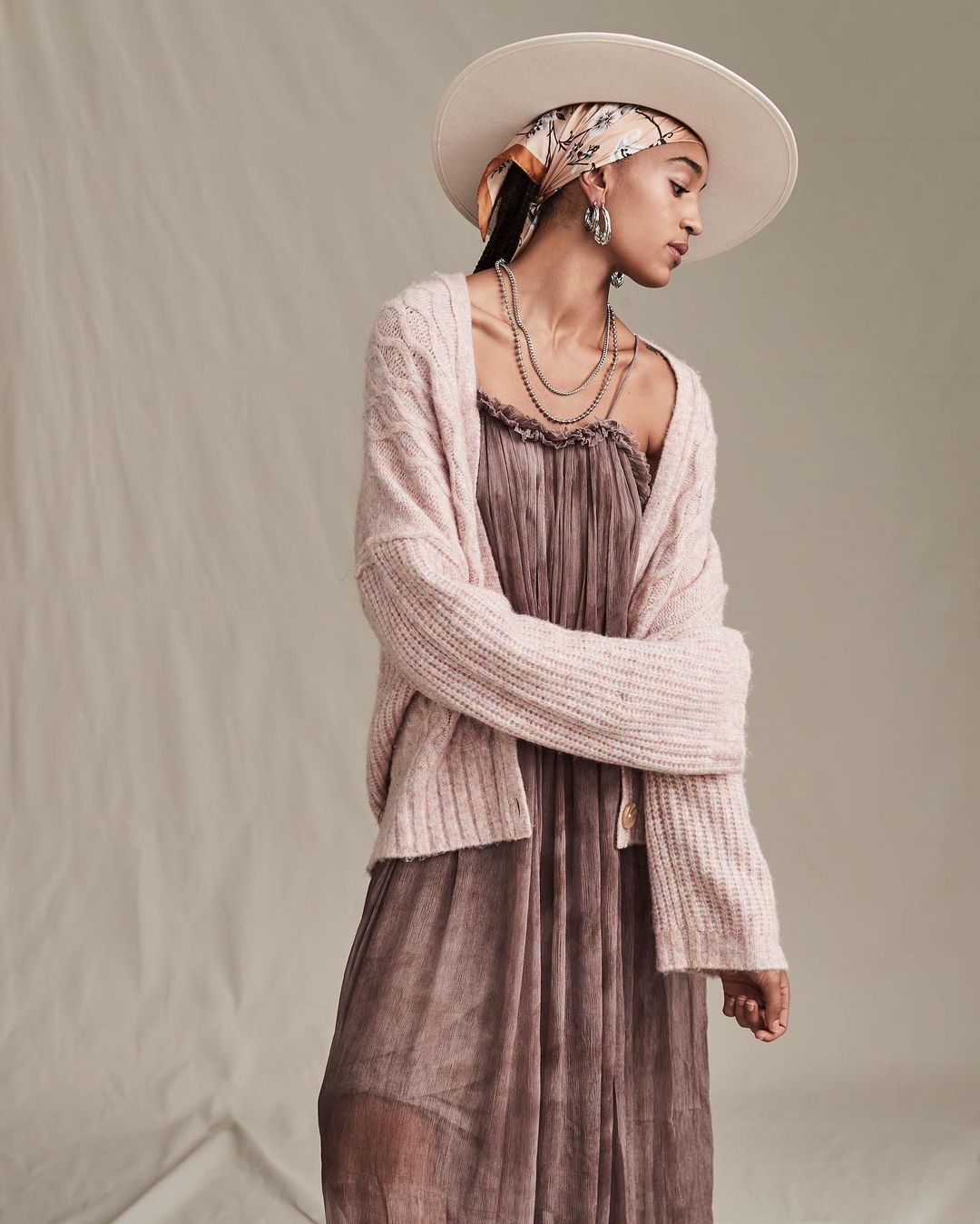 Boho style has gained a lot of popularity in recent years. And before many people could really understand what it was about, the meaning got lost and vague in a confusing way.
It's common to see grunge looks, or very basic 90's style outfits being called boho. Why, you ask? Well, I have no idea 😂 I can't see the connection between high waisted jeans + choker and a cropped top with boho style! Maybe they get it mixed up with indie style? Or, more likely, with tumblr style!? Seems like it.
Anyway, sorry for the venting at the beginning of the post hahah! In all honesty, I want this to be informative and useful. And everything I'll write here is based on theoretical knowledge.
So let's understand once and for all what this style really is, and how to put together beautiful outfits in this aesthetic!
For the sake of understanding, on this post I refer to boho as the fashion style that became popular worldwide mainly between the years 2005 and 2015.
BOHO is short for bohemian homeless. It's a fashion style influenced mainly, but not exclusively, by the hippie of the 60s and the bohemian of 2 centuries ago. There is also a strong connection to the gypsy culture, so much so that it's difficult to see the line that separates boho and gypsy style.
---
---
Historically, immigrants and refugees from central Europe who arrived in Europe's major capitals (mainly in Paris) were called bohemians. Among them, were several Gypsies. Their way of dressing, disheveled and carefree, and their unruly life (compared to that of the native population) caught people's attention and caused fascination. And their aesthetics ended up becoming what is now known as Bohemian Style. This is the root of the style now known as boho.
The irony is that, at that time, dressing so freely and carefree meant not caring about fashion, not caring about society and being a non-bourgeois. Current boho, or boho chic as some people call it, has become the exact opposite of that. A trend that fell in favor of elite trend-setters and influencers, and a source of income for super expensive high end brands.
---
How did the current boho trend emerge?
Among the super-tuned and fashion-crazy people, boho actually begins to emerge at the end of 2004. English actress Sienna Miller (above) and her dress style, inspired by the film "Almost Famous" drew attention to it's hippie-like looks, but with more urban influences in the pieces. The actress's appearance at the Glastonbury festival in 2004 caused a furor in the fashion world and since that specific event, the boho style has started to become popular and trendy. The twins Mary Kate and Ashley Olsen also quickly adopted the trend at the time and greatly influenced the spread of boho in the US.
As of 2007, many brands had already adopted the style in their collections. Others, who already had a style-oriented essence, took advantage of the hype to gain notoriety and earn money. For example, Free People, probably the most boho brand there is. There's also Stone Cold Fox, For the Love of Lemons …
It's also worth mentioning that, over time, both Sienna, the Olsen twins, and Free People themselves abandoned the original boho aesthetic, more similar to the bohemian roots and hippie looks, and adapted their styles to more current fashion trends, such as tomboy, minimalism, scandinavian, among others.
Boho style icons
Penny Lane played by Kate Hudson in Almost Famous is probably the most memorable figure when it comes to boho style. Top model Kate Moss is also considered an unquestionable style icon for the aesthetic, in addition to Sienna Miller, who directly influenced the emergence of boho as a trend. Other important figures in this scenario are Talitha Getty, Brigitte Bardot, and currently Vanessa Hudgens, Emily Ratajkowski, among others.
Main boho elements:
Basically, boho shapes are loose and fluid. Nothing too tight, or too short. Femininity is present, but at the same time, pieces of the male wardrobe are adapted and reinvented. Fringes and rag-style cutouts are everywhere, so are long fluid dresses and skirts.
Among the colors, patterns and prints, neutrals, earthy, grimy "white", tie-dye, paisley, florals and geometrics with reference to tribal prints stand out. Colorful embroidery, typically from South American cultures for example, are very common. Fur and other fibers that refer to the natural are very boho as well.
In terms of accessories, the floppy hat was marked as one of the most characteristic accessories of boho, especially between 2010 and 1013. Overlapping and stacking jewelry are also trademarks of the style. Such as turbans, headbands, hats and other garments inspired by native cultures around the world. Flowers and feathers are significant, referring to the influential hippie culture. And let's no forget the classic cross bags, especially the ones with fringe details are super boho as well!
---
Shoes: chunky flat boots, low, medium, high or over the knee, and mostly in neutral tones. Gladiator sandals and flat sandals in different shapes, but always with a natural look footprint. Sneakers are added into the game as of 2015/16.
Key pieces: Tunics, long skirts, maxi dresses, flowing clothes in general, bell-bottom pants or pantaloons.
Hair usually looks natural. Due to its connection with the hippie style, boho asks for longer and "blunt" hair. The hairstyles are always very relaxing and effortless, with braids being a great icon (mainly from 2010 to 2013) with the appearance of the high semi-bun in 2015-2016
In some cases, the boho fashion style also reflects a person's lifestyle. The boho spirit is romantic but rebellious, appreciative of beauty and art and very connected to nature. Unhappy with the obvious and the conventional, curious and above all free.
Phew… such a long post! Hope it's useful 🙂
Beijo,
Lu