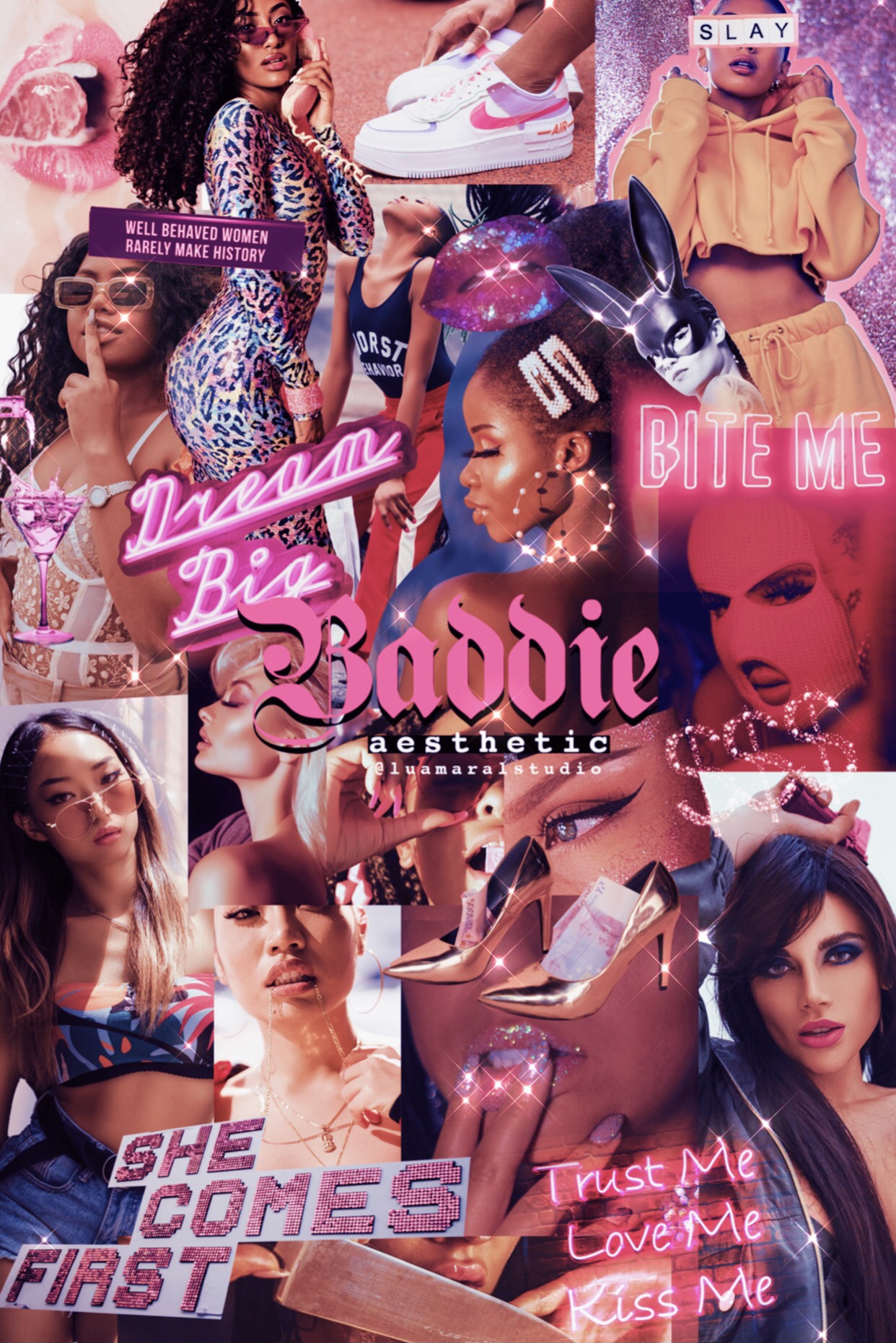 Hey gurls. If you're looking for information and inspiration on the Baddie Aesthetic, this post will give you everything you need to know.
First and foremost, the name baddie comes from bad bitch, and the fierce name itself, to me, translates the spirit of this aesthetic.
The heartbreaker confident girl who is NOT afraid to show who she is and how powerful her personality and looks are? That's the baddie. She's up-to-date with the beauty and fashion trends and her favorite style is feminine, sexy and super cool. And her eyebrows and nail games are stronger than anybody's you know! She likes shiny glittery things, pink and purple (or whatever colors are hot rn), tight clothes that show her gorgeous figure and lots of accessories. This sexy lady loves to spend time on her looks and feel empowered by them, not giving one single fuck who likes it or not 💖🌹💅🏽
Oh, and baddies are into making money too. Lots of of it 🤑🤑🤑
Other styles that have a lot in common and are often associated with the baddie are the barbiecore (more soft), gangsta (more street) and femme fatale (more classy and glam).
Now that you know what the aesthetic is all about, let's get some inspo on how the get the baddie look!
The baddie look
As you can see, the feminine super sexy style prevails with crop tops, tight jeans, sneakers and hoodies being favorites. Accessories like big hoop earrings and stacked necklaces and bracelets are a must, specially the shiny ones. There's not such thing as too many accessories! A baddie's outfit and makeup will always look a million dollars. No matter if she's filthy rich or totally broke 💖💖💖
Statement pieces are often used by baddies to emphasize both their love for fashion and their confidence in their own sense of style. Which is simply flawless tbh, no matter what they're wearing.
Now I've also made a baddie pop culture aesthetic reference moodboard, these are always great source of inspiration:
LOVE THEM ALL 😭😭💗💗
My favorite baddie aesthetic emojis are these: 🖕🏽👄🗯🤑🍸💘💎🛍💣🏆🎆👙🧋😈✨🖤🌹😛🍒🍾😎 ✴️💕🎧💳👑‼️🌙🎀🥂💲🔮😻🦋💞📣🔪💋💵😉🖕🏻💖✨👠👛🧨💄💅🏾💥🪞💜❌⚡️👸🏽💗🎇🚀🔥
One more thing that's important to highlight, guys. If you pay attention to this aesthetic, you'll see it evolves with whatever is trending in the mainstream media/culture. I mean, right now we have all the pink and purple, sneakers, glitter, guns and knives as well as Playboy, Barbie and Bratz dolls, 90s and 80 references… A while ago you'd see more of a cameo print + black clothes and a less girly attitude for sure. Just like any other aesthetics, the baddie will adapt to her time and individual preferences. It's anybody's guess what exactly this aesthetic will look like one year from now, for example 🤷🏽‍♀️
So, to sum up, the baddie aesthetic has to do with badass attitude combined with a love for trendy beauty and fashion. And making money. Lots of it!
And this is my fav baddie music video. What's yours?
Beijos,
Lu